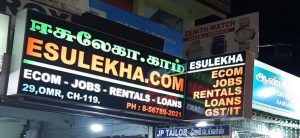 Our Office is located at the intersection of OMR (Old Mahabalipuram Road, also known as IT Express way, also known as Rajiv Gandhi road) and ECR-OMR connecting Road (also known as Kalaignar Karunanidhi Road) at Sholinganallur junction near a popular showroom 'Vasanth & Co.. We are generally open at standard office hours of 10 am to 6 pm on Monday to Friday. Saturdays we selectively work. Sundays Closed unless by special arrangements. If you have trouble finding us, please contact us for more information and hours.
Email
contact@esulekha.com
Phone
8-56789-2021
Address
29, OMR, CHENNAI-119
Get in Touch
We are here to answer any questions you may have. Reach out to us and we'll respond as soon as we can.
[weforms id="57″]